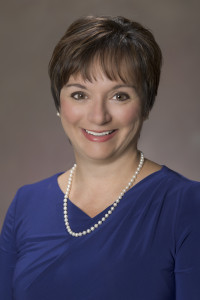 Debbie Salas-Lopez is Chief Transformation Officer at Lehigh Valley Health Network (LVHN) in Allentown, Pennsylvania and a Professor of Medicine at the University of South Florida, Morsani College of Medicine and the College of Public Health.  In 2009, she was appointed the Leonard Parker Pool, Chair of Medicine, a role she served in until 2015 as the only Latina Chair of Medicine in the continental United States.
She completed medical school and a residency in Internal Medicine at New Jersey Medical School and obtained a Master's Degree in Health Policy and Healthcare Administration at the School of Public Health, Rutgers University, and UMDNJ.  She has been a visiting scholar at the Harvard Institute of Healthcare Policy and completed fellowships with the National Cancer Institute and the Association of American Medical Colleges Health Services Research Institute. She is a Fellow of the American College of Physicians, an Affiliate Member of the Association of Professors of Medicine, and a member of the Northeast Consortium on Cultural Competency and Medical Education; a group comprised of 12 medical schools in the Northeast region.
Dr. Salas-Lopez is a standing reviewer for the National Institute of Health (NIH) study sections with a special focus on primary care, health literacy and access to care.  She was the Principal Investigator of an NIH award to establish a Neighborhood Community Cancer Center Program with other colleagues in the Lehigh Valley and has extensive experience in extra-mural research.  She has collaborated with many community-based organizations on issues related to prevention, screening, and healthcare access and has partnered with healthcare institutions to address community needs.  She has led initiatives to improve quality of care, contain costs, and strengthen primary care through care coordination.  She has also been successful in aligning and integrating physicians and practices with the network vision and has published on this work.  She is a nationally recognized speaker and educator in the area of women in leadership, culture, cultural healthcare disparities, and the impact of social and economic factors on access to care.
In her current role, she has oversight for:
-The Center for Connected Care and Innovation – responsible for all tele-health, remote patient monitoring, and other healthcare delivery technologies and innovations.
-Population Health – responsible for community care teams that consist of care managers, pharmacists, behavioral health specialists, case managers, and other resources that provide care to high risk patients to improve care and reduce costs.  Also responsible for Patient-Centered Medical Home strategy for the network to obtain National Council for Quality Assurance recognition.
-Community Health – responsible for all community health programs and initiatives and works collaboratively with community based organizations to improve health and access to care.
Palliative Medicine – a clinical program that provides care to highly complex patients with living with multiple chronic conditions.
-Clinical Alignment and Integration Agreements – with multiple independent physician groups and practices to ensure success of network goals.
-Post-Acute Strategy for Skilled Nursing Facilities – responsible for collaborating with area nursing homes to ensure quality of care for our patients and alignment with network goals.  Also provides oversight and leadership for the development of a new Fleming Memory Center to provide coordinate care to patients (and their families) living with memory disorders.
-Coding and Documentation Improvement Program and Utilization Management – responsible for ensuring compliance with the regulatory standards for coding, documentation, and utilization reviews for the network.
To access my scholarly works, click here.